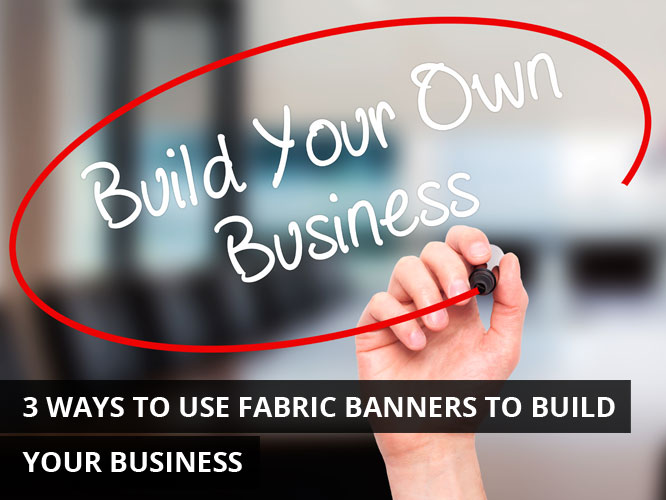 With the proper concept and placement, banners can really make a strong statement for your brand and business. Banners have a number of uses in home and office settings, and their relatively low cost compared to other signage styles makes them the perfect choice for anything from enterprise-level company to a self-starter's small business.
The SignWorld team has compiled a number of banner best practices to help you drive business your way, and we'd like to share them with you now. Read on to learn more, then take some time to browse our collection of banners and magnetics at https://signworld.org/Portfolio/Portfolio.aspx?cat=banners.
Advertising sales and promotions. Running regular sales and promotions is considered a business best practice for companies of any size. Not only does this drive in new foot traffic hungry for quality deals, but it brings in old customers who needed a reminder about your brand. But every business owners knows that getting word of a great deal out there is crucial if the promotional gambit is going to work. That's where banners come in handy, and though many business owners are spending time and money on proximity-based mobile advertising, banners remain one of the most effective means of communicating a message in a non-invasive way. Sure, people spend their time on their mobile phones these days, but it's not to browse advertisements; if somebody wants to look up your promotions, they will, but proximity-based ads are about as appealing to audiences as internet pop-ups.
Display pricing, service information, and FAQs. Banners are also excellent for displaying the everyday information your businesses' staff members have to communicate with the public. This includes price listings and menu items, service information such as which forms or prep is required by customers, and answers to common questions that people pose. Having this information displayed on a banner makes life easier for customers and staff; rather than having to explain the same things over and over each day, your staff can direct customers to the banners, thereby saving time and getting more out of their work day. Posting valuable information on your banners is also a great way to condition your visitors to read this form of signage. In doing so, you can get more eyes on your promotions, since people will be scanning banners hung around your property for useful information.
Express your brand image or organizational culture. We live in an era where customers want a deeper understanding of the company receiving their patronage. After all, this is a socially-conscious time where people understand their dollars count as "votes" they can cast to support companies whose image and ethics align with their own ideals. Savvy companies understand this; it's why so many businesses take the time to explain where their products were sourced, and make the effort to say when something is organic, cruelty-free, or environmentally friendly. If you want to attract more customers, your company needs to have an appealing brand image and organizational culture, and people need to know about it. What better way to express this than with banners? A coffee company wanting to show off its organic crop-to-cup product cycle could hang banners showcasing the lush green countryside where their beans are harvested, perhaps with a farmer smiling in the foreground, with some brand-relevant text on the front. A truck retailer might want to choose an image of a rough, rugged, and durable explorer forging through the muddy countryside with their truck. Whatever the case, your banner can be a powerful form of brand expression that doubles as a visual treat for visitors.
Please visit our website to learn more about our banner service and options!