SUCCESS STORY
Jim Zavorski, owner of Alpharetta Sign Company, in Alpharetta, GA. recently finished his first Helicopter wrap project. Alpharetta Sign Company recently opened its doors in November 2017. He completed this project for a customer named John who had recently acquired a Robinson R66 Turbine Helicopter within his second month of business.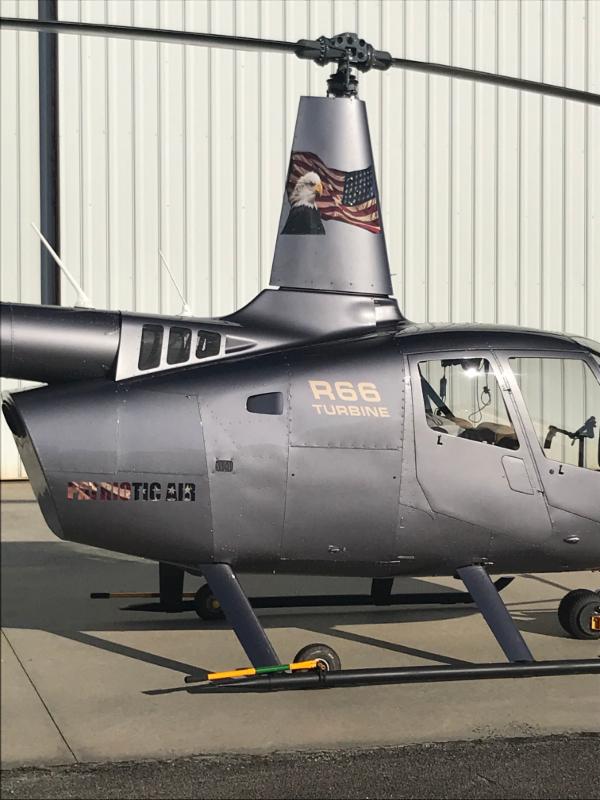 Jim described how this project came about, "The paint and tail numbers were ok for John, but he was looking for something more. We talked about wrapping his tail in camouflage to go with his Patriotic Air theme, but after consultation with his family and myself, he decided to go a different direction.
John had an idea of an American eagle on the ship, but he didn't have any good graphics from which to reference. My graphic designer quickly presented him with numerous options, and after a period of revision, we had our winning graphic. At this time, we also added text to represent his company which tied in with the patriotic theme. You'll notice that the stars are forward in the graphic, The blue field of stars should always be in the highest position of honor.
Installing the graphics was a bit tricky but, with teamwork, perseverance, and a heated hangar we applied our winning set of graphics. John is ecstatic with his new bird and has been showing off his new graphics to all his friends. Now, when I hear a helicopter overhead, I look up to see if my company's work is zooming overhead."
From start to finish, this unique project took 3 three weeks to complete. Photos provided by Jim Zavorski.