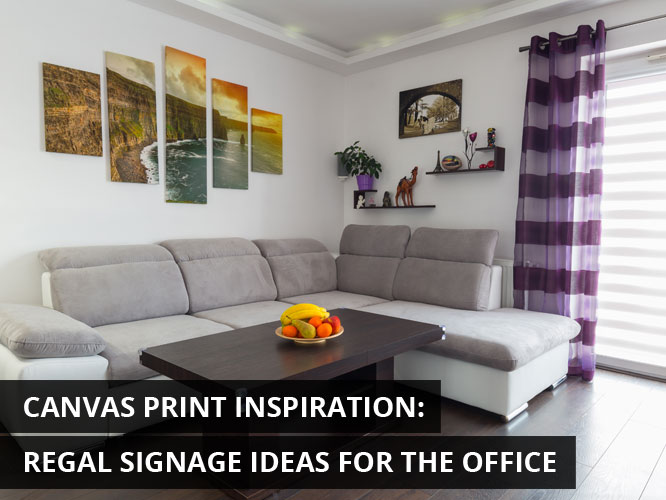 Canvas prints are all-around crowd-pleasers; they're one of the most desirable means of decorating a residential space, but they're also popular choices for offices, lobbies, reception areas, and many other professional settings.
And while the canvas print is used in many different settings, their actual application is even more diverse! With this in mind, the SignWorld team has put together a simple guide of ideas and best practices to inspire creative office canvas print applications of your own.
But before we launch into our office canvas print applications, let's review some of the fundamentals.
Frame Thickness and Edge Options
Canvas prints are usually ordered by clients who have particular personal pictures in mind. Once they're prepared, the canvas itself is stretched across aptly named wooden "stretcher frames." This simple, lightweight framing option gives you an endless array of hanging options in any professional or residential setting. But before you can realize your home or work-decorating dream, you'll need to decide on your frame thickness and edging options.
The standard frame thickness you'll find ranges between .75" and 1.5" – these are sometimes referred to as the "standard" and "gallery" wrap options. Established in 1913, our team has literally over a century of experience to draw from, and will be happy to help you select what's best for you – just call (541) 530-6779 when you're ready to start the selection process and we'll guide you through it!
When you're ready to plan and purchase your print, you'll need to decide on an edge option. As with frame thickness, a number of industry standards are available to you. You can choose from mirrored edges, which mirror your imagine around the edge of the entire canvas, or you can opt for a more classic solid-color edging option. Most manufacturers will offer you solid-color edges in white or black.
Canvas Prints in the Office
Canvas prints are an excellent addition to any office setting. Not only is this kind of corporate art a way to boost team morale and break the stigma of a stuffy white-collar workplace, but it can help you showcase your company's culture and brand in a very appealing way. Whether you want to boost productivity in your boardroom with some inspiring prints, or cultivate a warm and welcoming feeling in your office waiting room to put clients and prospects at ease, canvas prints are an excellent choice.
We generally recommend setting a theme that conforms to the utility of the room, though no hard and fast rules apply. For the kitchen and break room, consider some coffee-colored prints or food photography shots. A bit of levity is also recommended in this rooms: some coffee humor is never out of place on a canvas print hanging above the Keurig! For the board room, focus on images that emphasize your corporate culture, since this room will be entertaining most of your prospective clients. By surrounding them with canvas print that embodies your brand, you'll be able to make a positive impression on your guests, and set the tone for productive meetings. For the staff work spaces – or "cubicle culture" as it's sometimes referred to by its occupants – try to choose imagery that nods towards creativity, work ethic, and inspiration. Athletic feats of greatness, abstract art, and awe-inspiring nature shots all fit these roles nicely.
Want to find out more about canvas prints and other signage options? Visit https://signworld.org/index.html#about today for information on sign and logo design, concept development, sketch to renderings, and more!