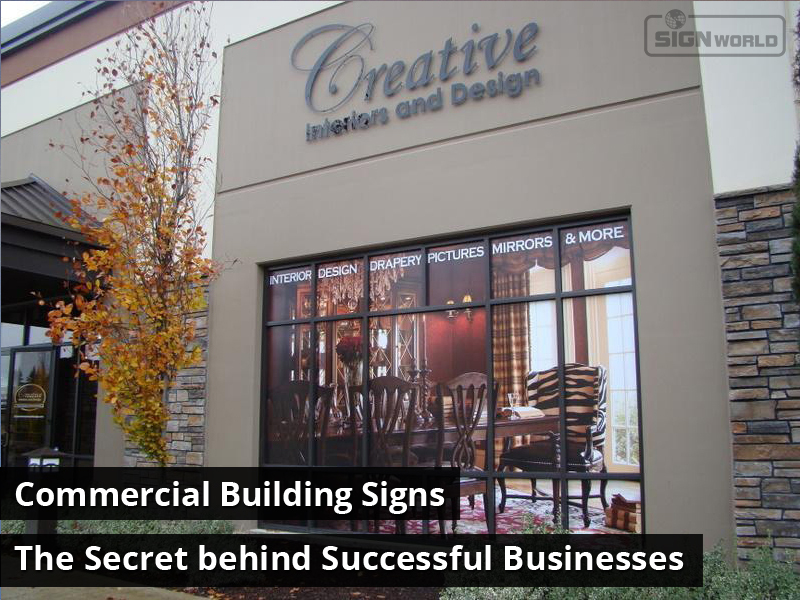 Commercial building signs of all types are offered by Signworld companies. Regardless of where they are located, building signs are the most common type of signage every company needs. Customers need to be able to find a business in order for it to be successful, whether it is located inside a mall, housed in a standalone building, or in a strip mall. Signs attached to a building let consumers know where to go.
An illuminated branding tool can be created from the business's exact logo thanks to state of the art graphic design software. Size, letter style, placement, color, illumination options, and more can all be customized according to a client's specifications. Plus, an array of materials, such as plastics, aluminum, and stainless steel, can be used to make commercial building signs.
Types of Building Signs
Some of the more popular signs that buildings often need are
Channel Letter – These can either be non-illuminated or illuminated from the front face.
Flat Cut-out Signs – For businesses on a budget, these commercial buildings signs are flat, non-illuminated, two-dimensional signs. From metals to plastics, they can be made from a variety of materials.
Blade Signs – If the bulk of traffic near a business travels perpendicular to the storefront making it hard to see, these signs serve as a way of attracting drivers and pedestrians. Both of the faces of blade signs can be illuminated. Or, their cut out design can be non-illuminated.
Reverse Channel Letters – These are like channel signs, only instead of the light being projected through the front of the letters, it comes out of the back. This produces an elegant halo effect.
Electronic Message Centers, or LED Outdoor Signs – Using cutting edge LED lighting technology, messages are displayed and stored in different formats once programmed into an electronic device.
Custom Neon Signs – Customized to fit the specification of any business, neon signs consist of glass tubes that use argon or neon gas.
Awnings – These not only complement the design of the building, they also provide additional signage and lighting.
These are just a few of the more common commercial building signs. There really are no limits to what can be done.
The Importance of Signage in Branding
Signs are helpful for marketing a company. And, just like all marketing materials, signage must be consistent. This is necessary for building brand awareness. All building signs need to present a unified image. This includes using the same colors on all the signs and adding the company's logo and name. The more their clients see the branding, the more it will stick in their minds. Repetition leads to trust, and trust leads to increased sales. When compared to generic, readymade signs, custom signs generally pay for themselves through the increased brand awareness and subsequent sales conversions.
Feel free to contact us for information if you would like to own a company in the booming sign industry or if you just want to know more about Signworld.