Costa Mesa, CA – August 16th, 2013  — Focal Point Signs & Imaging in Costa Mesa, CA is one of Signworld's newest sign companies to open its doors.  This group of dedicated Sign Makers is led by owners Cynthia Ferguson and Sandy McKenna who bring creativity and passion to the art of designing, fabricating, and installing custom made signage and digital imaging.  Focal Point Signs & Imaging is dedicated to a consultative approach when working with their clients to ensure that the right sign package is created to achieve the highest level of effectiveness.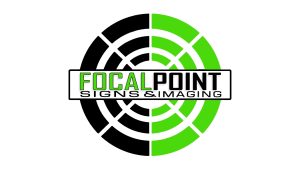 Ken Kindt, President and Founder of Signworld, says of Focal Point Signs & Imaging, "We are extremely optimistic about the future for Cynthia and Sandy's new venture.  They bring the right equation of passion, integrity and enthusiasm to this business which is necessary for any business to be successful.  Their future looks bright and we look forward to helping them achieve their goals for many years to come."
What is Focal Point all about?
The "Sign" part of Focal Point's name refers to their ability to make almost any sign imaginable from exquisite hand crafted lobby signs, to bold full-color exterior signs made to last.  They also refurbish, refinish, and bring back to life existing signs if it is in need of some TLC.
The "imaging" part of Focal Point's name refers to their ability to print eye-popping photographic quality images in large format (up to 1200 dpi).  This allows the team to produce the highest quality car wraps, window decals, and vinyl lettering available anywhere today.  Their capacity in imaging is particularly effective for custom murals, wall wraps, and wall papers as well.
To get an idea of what the company culture is like, Focal Points Mission Statement is "To be a place where people want to work, and people want to do business".  Cynthia and Sandy firmly believe in operating from a position of integrity in business and strive to go beyond customer expectations whenever possible.  This focus on superior service has been rewarded, and seems to be working, as is reflected by their 5 star rating on Yelp.
Jack Werner, V.P. of Signworld, added, "The team at Focal Point Signs and Imaging have made a lot of progress in establishing a reputation as an authority in the local sign market in a very short period of time.  I have full faith in their ability to control the project management side of this industry and provide great signage backed with amazing customer service based on Cynthia's background as a director with Autotrader.com and Sandy's background as an elementary school teacher."