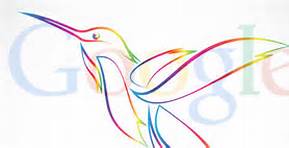 Here is what you need to know about Google's Hummingbird release…
Google Hummingbird is the latest algorithm that was released by Google on August 30, 2013 however it wasn't announced until September 26, 2013.  I guess that's Google's way of staying one step ahead…  Hummingbird is the largest algorithm change in 12 years.  Where some of the previous updates (Panda, Penguin, etc.) were updates to existing algorithms, Hummingbird is a completely new algorithm that has incorporated some of the previous algorithm's search priorities.
The idea behind this algorithm was to provide a more human way of interacting with users and provide more direct answers when doing a search through Google's search engine.  Google's senior vice president, Amit Signhal commented that the update can make use of more complex search requests and has a better understanding of the concept of human language, rather than a few scattered words.  It was also said that the newest update is a "step forward in the Internet's history as searches will be more "human friendly" than ever…"
So, here are a few tips to take advantage of the newest algorithm update and not only retain your current rankings but raise them for future searches.
First, let's look at a few changes we have been mentioned many times that have taken place over the last two years.
The use of mobile devices as primary sources of searches continues to grow each month.  With the use of these mobile devices, Google's voice search and Apple's Siri have become a staple in assisting with those searches.  The user no longer has to type in their search phrase rather they can speak to their "personal assistant" and allow the system to do the search verbally.
Search queries are being done more and more in the form of questions rather than in the form of keywords.  Google has a desire to provide answers and searches in the form of questions rather than keywords offer the opportunity for better answers to be displayed in front of the searcher.