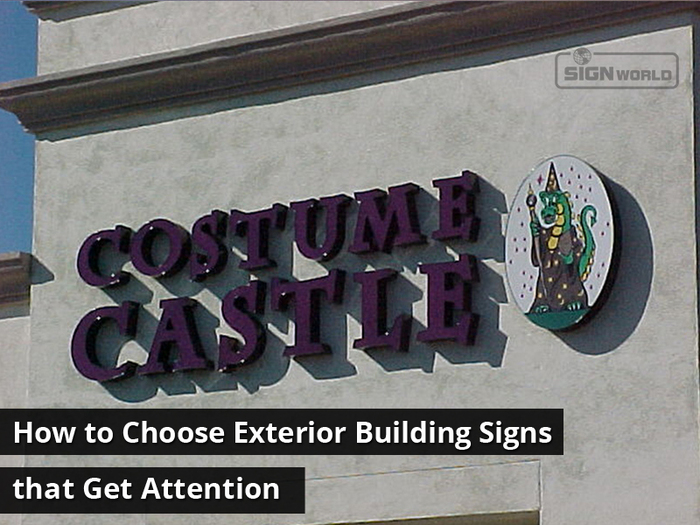 Exterior building signs are some of the most noticeable things we see during our day. Outdoor signage is crucial for attracting prospective clients, making sure current clients can find you, and increasing your brand recognition. Luckily, Signworld businesses are the experts at this type of signage.
You want to make a point of ensuring your exterior building signs reflect well upon your company brand and image when choosing its type and style. To present a unified image and message, all aspects of your business's marketing should be aligned. So that you can have the best graphics and materials to fit your company, our experts will meet with you to determine the best course of action to take.
The Uses for Various Types of Exterior Signage
Signworld owners can essentially make any sign you can think of. Below is a little bit about each of the more common types of exterior building signs you may need:
LED Message Boards – Since it is available in a broad range of mounting options, colors, shapes, and sizes, LED message boards are some of the most versatile signs available. Lasting for up to a decade of continuous use, efficient LED lights are used in these message boards, which allow for the easy viewing of your message even at night. For businesses that have information that changes often and that needs to get out to customers, LED message boards are the ideal solution.
Monument Signs – A monument sign is often the very first impression your company will make. These last for years or even decades and are easy to spot. Among the materials used to make monument signs are high density urethane (HDU), wood, stucco, and cement. HDU is incredibly cost effective and can be used for just about anything. We strongly recommend HDU monument signs for any building.
Channel Letters – Channel letters are the type of exterior building signs you see attached to the outside of most storefronts and office buildings. These are a great option for standalone companies as well as businesses that are right up alongside competitors in a strip mall since they come in endless varieties. Non-lit channel letters are a good choice for storefronts in office parks that are not open after dark. Illuminated channel letters are better if you want your company to be clearly visible once the sun goes down.
Acrylic Letters – Acrylic letters are popular because they are inexpensive, durable, and robust. For extreme clarity, acrylic letters are laser cut with thicknesses of up to an inch. You can choose how big you want your letters to be based on how far onlookers will be to your sign. Also, if your letters start to lose their vibrancy after a ten years or so, you can paint the letters for an instant facelift. Over the entrance to your building is the best spot for these signs.
If you want to know more about becoming a Signworld owner or if you want to know more about owning a company in the commercial signage industry, contact us for more information!