Aren't you tired of sign businesses making baseless claims about their "proven" systems? We certainly were, which is why we thought it best to put up or shut up.
Today's post puts up, sharing two recent success stories that say more than we ever could about the value of our sign business alliance.
Signworld Partner's Happy Customers Keep Coming Back For More
Murray Johns is a Signworld partner and the proud owner of 12 Point Signworks in Franklin, Tennessee.
Murray recently completed a big-ticket project for SkyHouse Nashville, a new multi-family luxury high rise offering modern one-, two- and three-bedroom apartments.
The client wanted to personalize the apartment's dog walk area, which housed a large pipe, water access, and fountain. The client hoped to transform this area into a fun and inviting space that screamed "dog" without spoiling the sleek and classy aesthetic.
It was a tough ask. Compared to the rest of the sleek modern building, this area looked bland and industrial, even with the pop of green added by the turf. It was also difficult to work with because the ground gradually sloped and the water valve had to remain 100% accessible.
But Murray's team wasn't daunted. They jumped into action, adding tasteful decorative architectural panels that perfectly followed the slope of the turf and balanced form with function, looking great and cordoning off utility space behind.
Here's a look at the end result: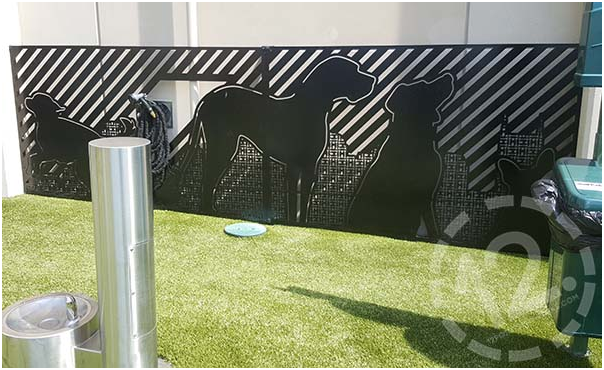 Looks great, Murray!
But the most impressive part of this success story is that Murray got this job without paying a single penny in marketing costs. Why? Because 12 Point Signworks and SkyHouse Nashville worked together in the past, and Murray's team always delivered.
After outstanding results using 12 Point Signworks for their leasing graphics, retail window graphics, trash chute signage, garage decals, and lobby signage, choosing Murray's team for their dog walk area was a no-brainer.
Happy customers keep coming back for more, and sometimes they'll even refer you to their friends and peers. Murray got more than 7 sign jobs (and counting) from a single ad conversion.
Our sign business alliance is all about giving you the skills, tools, and connections so that you can build repeat business like Murray. Our vendor network, equipment package, and collective expertise ensures you can deliver impressive results that meet any sign needs, even if you don't produce a particular product in-house.
Signworld Partners Complete Big-ticket Projects On Tight Deadlines
With the training, support, and collective expertise of the Signworld business alliance, our partners can bid on any sign project with confidence, no matter the difficulty or turnover time.
Take Roger Carroll, owner of Cowtown Graphics and Signs in Fort Worth, Texas, for instance. He placed a bid on a project with the Irving Independent School District that involved redesigning their football stadium to honor their most generous donors. And though he'd never done such a large project before, Cowtown Graphics and Signs won!
The job was not only big, it was tough! The client wanted Roger's team to match the color of the original paint perfectly, and the facade needed to be replaced entirely due to heavy weathering. Furthermore, the client wanted it all done on a very strict timeline.
But Roger's team got it done on-time and the ISD was thrilled with the results. Leaning on the support offered by the Signworld alliance, Roger achieved precise color-matching and rented a swing stage to install their new sign properly.
Learn More About The Signworld Business Alliance
Find more success stories on the Signworld Business Alliance Website or call 888-765-7446 to learn more about what our sign business alliance can do for you.