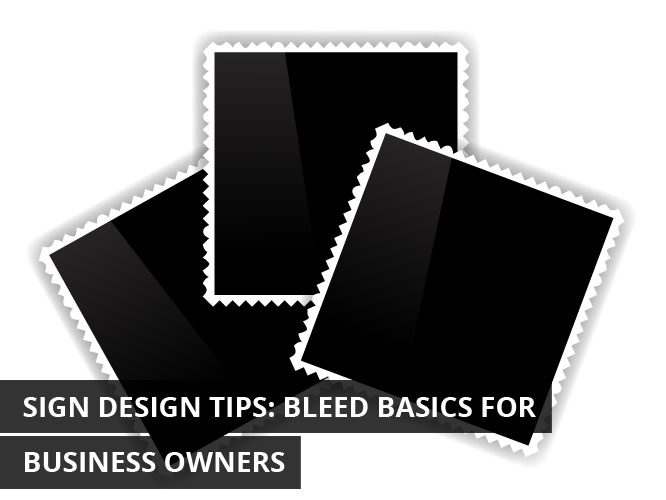 When most people hear about "bleeding" in relation to signage, they think of running paint lines. But they're wrong; bleeding is an important technique that can make all the difference when you're trying to create a professional-looking storefront.
The SignWorld team has over a century of experience in the signage industry, which means we're highly familiar with the various design elements that go into a picture-perfect sign. One of the more commonly used techniques is known as "bleeding," which is nowhere near as gory as it sounds, but rather is a way to avoid the dreaded white-border around your images. In this piece, we explain some bleeding basics for business owners looking to show off their brand and organizational culture with eye-catching signs!
The Bleeding Basics
Bleeding techniques involve printing a design larger than the end product's actual size to cut out any unwanted white spaces at the border of your sign. Once the design you've decided upon is printed, the SignWorld team trims it down to the desired product size. In this way, you can express your brand image or promotional information without any distracting white edging detracting from its overall effect.
Bleed techniques are particularly useful for designed featuring colored backgrounds, letter, or images that stretch out to touch the edges and fill the corners of your sign. If your sign company neglects to apply proper bleeding technique, you risk cutting away parts of your image or lettering during the trim and mounting process. This can ruin a pretty picture or make your promotion illegible.
Most sign companies use a ¼ inch bleed area on all sides of their signs during the printing stage. That said, there is no actual industry standard "bleed allowance," and the bleed area can vary wildly from provider to provider, especially as their printer and material types begin to differ. However, a ¼ inch bleed allowance is recommended because if prevents any distortions that may occur because of movement during the printing process, as well as any cutting mistakes that can be made during the trimming stage.
Is bleeding necessary?
Businesses are built on blood, sweat, and tears, but is bleeding really needed in your signage?
The answer is no, though there's a little more to it than that. Bleeding is recommended for clients who want to ensure their sign is printed exactly as they intended it during the design phase. If you work with the SignWorld team to design and conceptualize your business idea, we will recommend bleeding, but the choice is ultimately up to you. Most people find that bleeding signs is a good idea, because the color variation that you get otherwise can look somewhat unprofessional.
How do I incorporate bleed into my business sign design?
This question is beyond the scope of this article, but it's right in the wheelhouse of our SignWorld design team. Since 1913, we've been helping home and business owners get exactly the look they want out of their signage, and we can help you too. We offer sign design, logo design, concept development, sketch to renderings, and more during our consultations. Find out how you can incorporate bleeding into your signage so that your lettering, graphics, directional, informational, or banner designs sing just as you intended – call (541)-530-6779 to learn more, or visit our website at https://signworld.org/ for contact information, sign service descriptions, and more!
About Signworld
Signworld is a national organization with more than 240 independently owned sign companies, which provide commercial custom signage and graphics. It's personable, creative, rewarding and ideal for people-oriented individuals who have the desire to learn how to manage a sales and production business. Signworld has been a part of the industry's profit and fun since 1988. With over 27 years in the business, Signworld has established itself as the leader in the no-royalties and no-rules sign business concept. The ongoing support and training along with state-of-the-art equipment helps leave the competition behind. For more details visit – https://signworld.org/