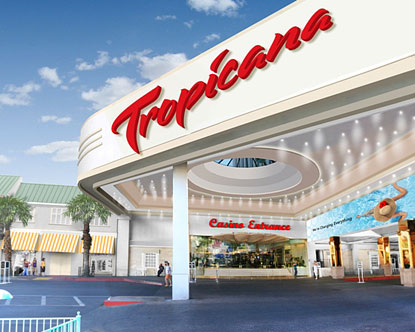 Signworld is excited to announce that the 2013 Signworld Annual Convention is scheduled for April 18-21, 2013 at the newly renovated Tropicana Hotel in Las Vegas.
Jack Werner, Signworld's Executive V.P. says of the announcement, "…we're extremely excited to be at the Tropicana Hotel for our 2013 event.  The venue will allow for our growing group to spreadout much more in the past and take advantage of the the opportunity to host more training sessions than ever before.  We are also very excited about the prospects of our growing tradeshow.  With  more space than ever before, we'll be able to expose our group to additional vendors and products lines that we have not had the space for before."
Signworld made a bold move in after the 2009 Convention to break away from it's tradition of following the International Sign Association and hold it's own stand-alone event.  The 2013 Convention will be the 3rd since that transition and is expected to be attended by record numbers of both Signworld Owners and Preferred Signworld Vendors.
"We did a great thing for our group by moving away from the ISA tradeshow and holding our own independent event.  Our attendance numbers continue to go up both from our owner population as well as our vendor population.  We keep working hard to make sure that the sessions being provided are current, that the suppliers in attendance are at the top of their niche markets, and, that the quality of the overall event continues to improve each year.  The convention is a great opportunity for owners to take advantage of the complimentary upgrade training and we want to make sure that our group remains interested in attending each and every year. I think that our owner population will be pleased with what we have in store for 2013!", said Dan Werner, Signworld V.P. of Operations.
The Tropicana is set on the south end of the Strip, with easy access to all of the entertainment venues Vegas has to offer, the hotel's South Beach inspired décor offers the glitz and glam of Vegas but with an all new, fresh, tropical feel. Enjoy one of the Strip's truly legendary casinos or escape to the pool, voted "Best in Las Vegas" and set on two acres of lush landscaping, waterfalls and grassy decks. As you might suspect, we are excited to be back on the Strip and we think our Signworld Owners will be pleasantly surprised and pleased with the location.
Contact Us learn more about how you can become a Signworld Owner and take advantage of the free upgrade training provided by Signworld