Kernersville, NC – August 15, 2013 — Signworld would like to congratulate Jim Braun, Signworld Owner of Sign Resources of NC, Inc. in Kernersville, NC, for his recently completing Phase I of a project for Duke University.
The first phase of the project, which consists of three phases, included over 11,000 sq. ft. of digitally printed vinyl applied to construction walls that resemble the brick facade of Duke's historic campus buildings.  Duke University, who is currently renovating a few of its buildings to accommodate some of its most current student and faculty needs, chose Sign Resources of NC, Inc. because of their reputation for customer service and their ability to complete projects on-time and on-budget.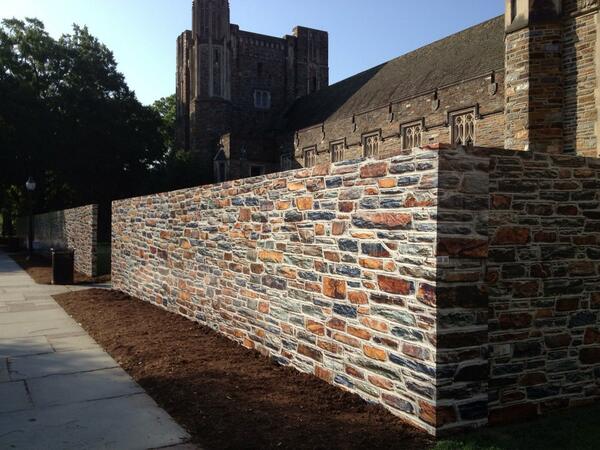 The next two phases of the project are scheduled to be completed on August 15th and September 1st, respectively and will include signage to complete the renovations of the campus buildings.
Sign Resources of NC, Inc. Owner Jim Braun says of the project, "We truly enjoyed working with the university on this project.  Duke, which has a very distinct and historic look and feel to much of its campus, trusted us with the creative freedom to come up with a concept for the graphics being used.  Because of the campuses historic feel, we thought that the best thing to do was to make the construction walls appear as the rest of the well-known stone facade seen around much of the campus.  We took a number of photos and our team went to work generating the artwork to be used.  We trust based on the universities reaction that we had done them proud and we look forward to working with them again in the future."
Ken Kindt, President of Signworld, added, "The hard work and willingness of our ownership group to go after larger customers like Jim has done with Duke University never ceases to amaze us.  We are extremely proud of the accomplishments achieved by the team at Sign Resources of NC, Inc."
"Jim Braun and the staff at Sign Resources of NC, Inc. exemplifies the true qualities that we emphasize with our owners as they go through not only the new training programs but also our on-going training sessions.  Some of those include; the ability to provide amazing customer service, the courage to go after the larger projects and more importantly the ability to go after the larger customers.  Jim's work with Duke University ranks up there with some of the projects we have seen from other Signworld owners who have worked with larger customers such as; McDonald's, Costco, Titleist Golf, PepsiCo, Subway as well as many other national and worldwide brands.", added Jack Werner, V.P of Signworld.
About Sign Resources of NC, Inc.
Based in Kernersville, our roots are here in North Carolina and we enjoy building signs for companies of all types. We have years of experience in this field and love what we do!
Our company was built on the principles of honor, commitment, and excellence. We honor our commitments to ourselves and our clients to ensure the highest level of excellence in all that we do.
If you are looking for a local sign company that can provide you with everything you need at affordable prices with the best quality customer service, look no further than Sign Resources of NC.