Stofanak Custom Cabinetry in Bethlehem, PA is one of those small business success stories we all love to hear about! As their website says,
"Since 1951, our family has hand crafted custom cabinets and millwork for the Lehigh Valley and beyond. Our designers have designed thousands of outstanding kitchens, vanities, libraries, commercial offices and other specialty projects." www.stofanak.com
Recently, one of our sign companies, Leading Edge Signs & Imaging in Bethlehem had a need for a high quality piece of mahogany for a lobby sign they were producing for a customer of theirs.  They contacted Stofanak and a new business relationship was started. Not only did the mahogany work out beautifully for their customer, but they also learned that the Stofanak truck fleet was growing and they were interested in looking to Leading Edge Signs & Imaging for help.
In the past, cut vinyl graphics had been used on Stofanak trucks, but Linda Audenreid had a better idea—how about a truck wrap for their new box truck showcasing the quality and craftsmanship of the Stofanak brand? Jim Reed, Owner of Leading Edge Signs & Imaging, met with the Stofanak team and agreed that this approach could lead to increased interest in the Stofanak brand, and a dramatic facelift to the fleet.
Linda and her daughter Caryn provided high resolution photos of some of the custom work they have done and Jim's team went to work formatting the designs to provide digitally printed panels for the project.
For this job, the Leading Edge team decided to use the highest quality vehicle-grade cast vinyl and overlaminate manufactured by Avery.  The prints were completed using a HP L26500 wide format latex printer to print each of the panels, and laminated each printed panel to provide extra protection from the sun and weather. Doing it this way will provide years of successful marketing results for Stofanak, as their truck drives through the Lehigh Valley region on a daily basis!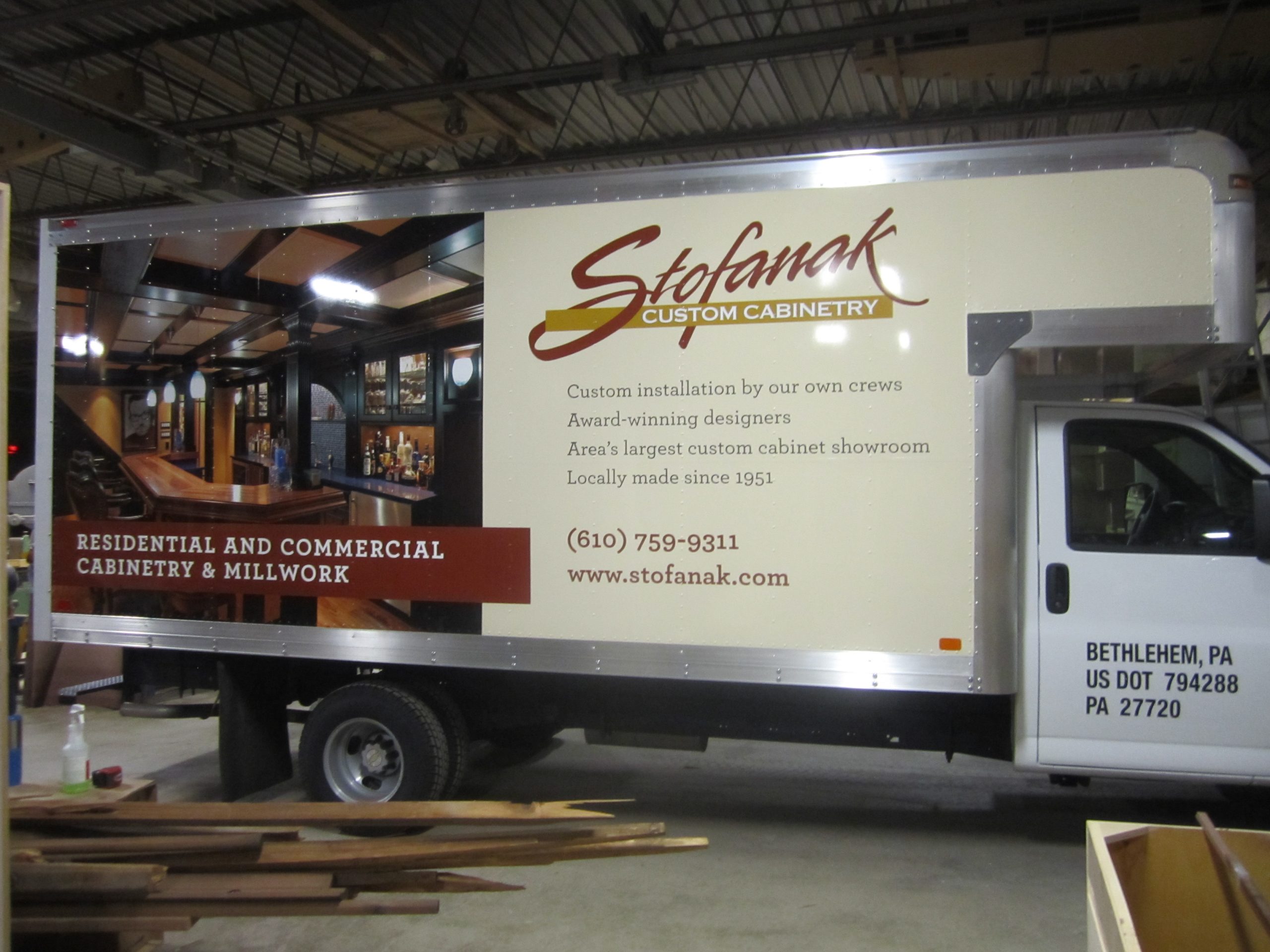 Jim's team installed each panel on the new truck, including both sides and the rear door.  They also added a panel on the front "attic" section as well, and rounded out the project with cut vinyl lettering on each door of the cab.
Linda and her team have been very pleased with the results. In fact, Jim just completed the second truck! Every business has competition, and Stofanak Custom Cabinetry is no exception. Looking for every advantage to showcase their fine products and craftsmanship, Linda decided to feature finished and installed products via the only piece of advertising that is "On the road" every day, seen by thousands of consumers. The Stofanak trucks have something the competition doesn't have—rolling advertising that actually show the product rather than just the company name, phone number, and website.
About Leading Edge Signs and Imaging
Jim Reed, Owner of Leading Edge Signs & Imaging, became a member of and opened his sign company through Signworld, the leading sign business opportunity in the industry, which has over 260 locations in North America.  Leading Edge Signs & Imaging opened for business in 2012 and has quickly become a sign industry leader in the Bethlehem, PA market.  Please click here to learn more about Leading Edge's products and services.