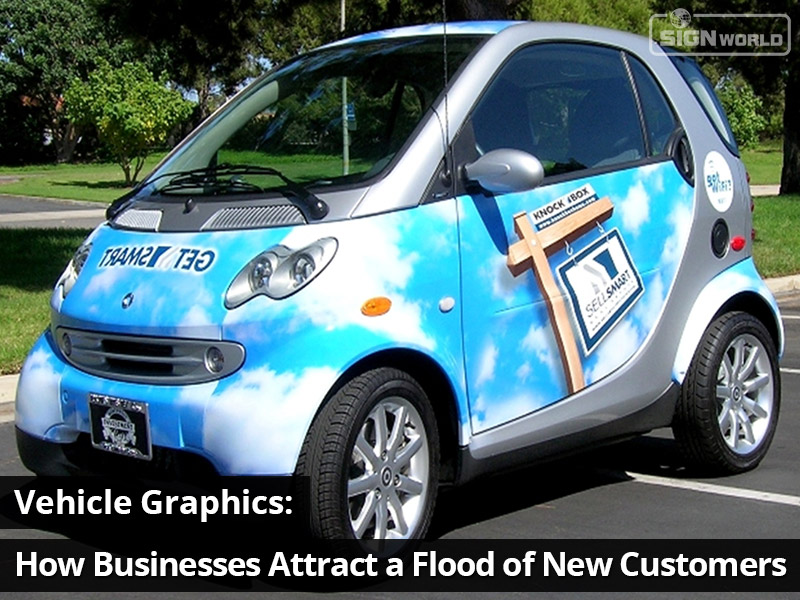 When it comes to advertising and branding, a lot of companies are just now discovering the benefits of vehicle graphics. One of the most effective forms of advertising available today is vehicle wraps according to recent statistics. Each day that it is out on the roads and viewable to the public, a single car wrapped with vehicle graphics will get up to 70,000 views. This blows away most other forms of print advertising, including vinyl signs, Duratrans ads, and custom posters.
Whether you are dealing with a startup business with a limited branding and marketing budget or a Fortune 500 company with a lot of funding, vehicle wraps are a great solution, since they have the lowest cost per impression of any form of advertising.
Vehicle Graphics Extend a Company's Advertising Reach
Another big selling point for vehicle graphics over traditional forms of advertising is the ability for wraps to reach potential customers just about anywhere in their everyday life. For example, if you go with television advertisements, you will only reach those people who still watch traditional television. And, if they use DVR, you can forget about them ever seeing your commercial.
Vehicle graphics are able to reach a broader swath of potential clients, since they are parked or moving in a different spot each day. These consumers are more likely to notice and remember the advertisement, since it is new to them. For the sales conversions companies experience, vehicle wraps are particularly worth the modest expenditure needed to print and install them.
We recommend including a design that accurately represents the appearance the company wants to create and that captures the company's values. Also, a business's phone number and website should be incorporated into any graphics, since the end goal is to get new customers to call or visit the site.
Other Vehicle Graphics Statistics
For those who prefer concrete statistics, here are some numbers regarding vehicle wraps and graphics:
By as much as fifteen times the normal amount, vehicle ads help boost brand recognition in consumers.
As local vacations and road trips have increased in popularity due to lower incomes, the Federal Highway Administration has forecast that people will take more trips per household and spent more time in vehicles in the coming years. When stuck in traffic, they will see vehicle graphics.
Vehicle wraps also target pedestrians. In a typical week, about 80 percent of American say they walk on average 6.1 miles in cities and towns.
In an average week, Americans travel approximately 302 miles. It is while they are in transport that they encounter vehicle wraps.
And, perhaps the most striking number is that on a daily basis more than 95 percent of American can be reached by advertisements that target people on the roads. You cannot find a larger pool of potential customers.
If you want to know more about Signworld or learn how you can become the successful owner of a booming sign company, do not hesitate to contact us for more information.